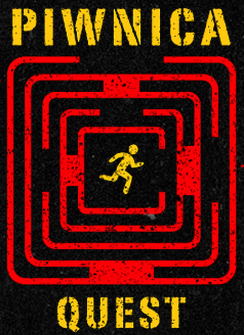 A couple of hours ago I found myself, together with a couple of friends, locked in a small vault in a basement of an old tenement house in Wrocław/Poland. Objective: escape the room in 60 minutes (+ complete a side quest). To do this we had to look for clues, solve riddles, break codes (not unlike some crypto challenges I've seen on CTFs, though much simpler) and do quite a lot of creative thinking. In the end we failed (we were so close it's painful!). But we had A LOT of fun on the way anyway :). This kind of game is called "Live Escape Room" and the one we went to, which I strongly recommend, was the room "Vault" by
Piwnica Quest
.
While I shouldn't write anything about the room (it would just spoil the fun for others and that's definitely an anti-objective of this post), I'll mention that our group was 5 people (which is the max. for Piwnica Quest as far as I know) and that I was really amazed by some of the riddles they created there.
And yes, the riddles are in English as well, so you don't have to know
encrypted
Polish.
So again, a link to their site:
http://www.piwnica-quest.com/
And I wish you the usual HF GL!
P.S. Full-disclosure: No, this is NOT a sponsored post - there are no sponsored posts on this blog. I really had fun and that's why I'm recommending it :)
P.S.2. I've been told there are more Live Escape Rooms in Wrocław as well - seems to be a good city for fans of this kind of activity.